HIGH PURITY QUARTZ (HPQ)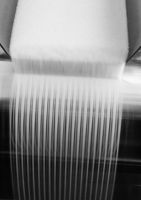 Dr. Udo Jakobs is concentrating since 1989 continuously on the processing and process development of quartz and silica sands. As head of R§D of a quartz/feldspar/kaolin-producer in Germany and as plant manager of an ultra high purity quartz plant (Norwegian Crystalites AS (Norway) - today: the Quartz Corporation TQC) in combination to continuous consulting experience since 1997 a high competence in the processing of quartz had been collected.
Following inhouse testing can be performed:
crushing (Hardox or contamination free)
grinding
sieving
attrition scrubbing (conventional or alternatively with a highly advanced ultrasonic technology)
magnetic separation (using newest technology specially developed for UHPQ processing)
gravity separation (sink/float, shaking table)
flotation
leaching (inhouse development)
silanisation, hydrophobic coating
Further processes can be done together with co-operation partner.
In the process development highest focus is on a ecologic and economic responsible process!